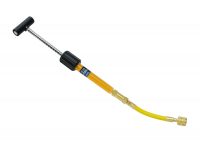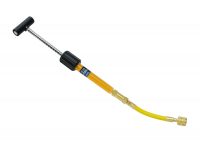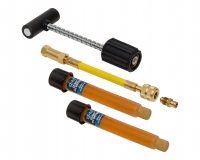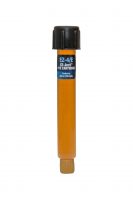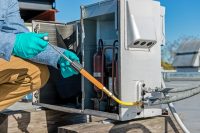 EZ-Ject™
Multi-Dose Dye Injection System. For Small to Medium Size Systems. Convenient and economical.
Works in all systems, including high-pressure R-410A systems!
The revolutionary way to add fluorescent dyes into air conditioning and refrigeration systems — without the use of additional refrigerant! Just one connection, then turn the handle to inject the dye. No complicated hookups! Ideal for preventive maintenance programs and for multiple, small AC&R units.
Cost effective for small to medium size systems — Each disposable EZ-Ject™ dye cartridge treats up to 7.6 L (2 gal.)of lubricant or 11.3 kg (25 lbs)  of refrigerant or 12 tons of cooling.
No pouring, no refrigerant, no spills — Prefilled EZ-Ject™ cartridges are clearly labeled with 14 calibrations so you'll introduce exactly the right amount of dye every time! When the cartridge is empty, just throw it away. A new one connects in seconds.
Check valve prevents the backflow of dye or refrigerant and allows for easy storage of the hose/cartridge between jobs. It also prevents dye leakage or contamination. Torque from the EZ-Ject™ assembly easily overcomes AC&R system pressure, even with R-410A.
Each 15 ml (0.5 oz)

 cartridge treats treats 

>7.6 L of lubricant or 11.3 kg of refrigerant
| | |
| --- | --- |
| JAV-1118 (EZ-100/E) | Universal dye injection kit |
| JAV-1105 (EZ-4/E) | EZ-Ject™ universal dye cartridge |
CONTACT US TODAY TO DISCUSS  YOUR REQUIREMENTS
No matter what your requirements, JAVAC can tailor a solution to fit your needs. Talk to JAVAC.